Records on Sale
Common Objects - whitewashed with lines
Another Timbre
Laurence Crane - Chamber Works
Another Timbre
Variable Formations
Another Timbre
Rows - Skogen + Anders Dahl
Another Timbre
Skogen - Despairs Had Governed Me Too Long
Another Timbre
Wandelweiser Und So Weiter
Another Timbre
Outwash
Another Timbre
Ist Gefallen in den Schnee
Another Timbre
two hands
winds measure recordings
Copperfields
www.absurd.noise-below.org
Cranc is the long-standing trio of Angharad Davies, Rhodri Davies
and Nikos Veliotis. Though they have been together since 1999,
this is only their second full length release after the 'All Angels' cd,
released by EDO records in 1999. They perform infrequently but
manage to maintain steady ties, as well as an unforced common ground
when the time comes to play music together. They operate as an improvisational group.
A.D.
www.anothertimbre.com/page75.html
Decentred
http://www.anothertimbre.com/decentred.html
Improvisations and realisations of indeterminate scores by Michael Pisaro and John Cage
tom chant - saxophones & bass clarinet
angharad davies - violin
benedict drew - electronics
john edwards - double bass
1. Michael Pisaro: Reader, listen: harmony series no.10 6:32
2. Activation (improvisation) 10:38
3. John Cage: Four 6 30:05
4. Michael Pisaro: La voix qui dit: harmony series no.8d 4:50
5. Decentring (improvisation) 13:15
6. Michael Pisaro: Flux: harmony series no.8a 3:12
TT: 68:57
BRAVE NEW WALES
http://www.fouriertransform.com/
transform010 | VARIOUS | PEDAIR AWR YNG NGHYMRU FYDD / BRAVE NEW WALES

A very special 3CD set of some of the best new music being made off the grid and under the radar by artists from and/or living in Wales. 4 hours of challenging music spread over 3 discs, with 32 page booklet, housed in a custom foil-embossed box. Limited edition of 1000.
David Toop
http://www.boomkat.com/item.cfm?id=30820
It seems the SamdhiSound label can do no wrong – after a stunning sequence of releases from Akira Rabelais, David Sylvian, Nine Horses, Harold Budd and Derek Bailey they now continue this high bar of quality with the eighth full-length from legendary sound artist David Toop. Toop is one of the most important names in minimal, academic music both as a journalist and a composer, and his journey started way back in 1975 on the release of 'New and Rediscovered Musical Instruments' on Brian Eno's Obscure label. After this prestigious beginning, he went on to work with some of the most important names in experimental music, yet for me 'Sound Body' is his most precise and focused work to date. Working with a carefully selected group of performers playing everything from Harp to stones (!), Toop creates an atmosphere rather than what one might describe as music. This is possibly as visual as sound can get, and with every minute detail you feel like you are in the room with him experiencing it all as it happens. Apparently Toop was interested in the sound of empty rooms when he recorded the album, and was vying towards making the record almost silent, however as he began to work more on it the different elements became steadily more evident. 'Sound Body' is quiet, but this is silence in the same way that listening to an empty room is silence, the more you listen the more reveals itself; a creak or sliding footprint, a whisper in the distance. The album gives me the same feeling I get when I watch the films of Andrei Tarkovsky, that same bleak, poetic ambience laced with unsurpassable beauty. This is certainly not music for the masses, but in its quiet grandeur there are untouched worlds to discover. Absolutely beautiful work and hugely recommended!
Endspace [new release]
http://www.anothertimbre.com/

"Above all this is a beautiful, enchanting album....Endspace is quite stunningly gorgeous....This is chamber-improv of hte highest order."
- Richard Pinnell - Bagatellen
"Both the violin and piano strings are brought with great care and artistic assurance into a kind of Beckettian aesthetic of disappearance as applied to the world of sounds......The ear senses something indistinct that can only fleetingly be heard. The sounds illuminate the sapce briefly and then are extinguished, like flares."
- Robert Dittmann - Bad Alchemy
"This is one of those (rare) albums that when it finishes, one is hard pressed to think what to follow it with. More often than not, the solution is to simply play it again. And again. A delight."
- John Eyles - All About Jazz
#1 london
http://www.creativesourcesrec.com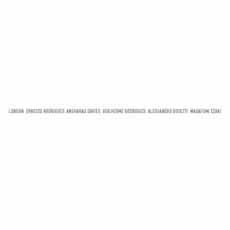 'Recorded at Atlantic Waves 2005, London is a 33-minute improvisation for viola, violin, cello, soprano sax and trumpet. Ezaki's short intro initiates a subdued collective crawl towards timbral oblivion, the raggedy quality of this poor man's invocation defining a division of the whole into a series of comfortless substructures and paint-stripping stretchings symbolized by continuous shifts in the introversion/extroversion ratio. As so often happens when the Rodrigueses are involved, scrape'n'squeal becomes a fundamental ingredient, in this case counterpointed by [violinist] Davies' approach – here ecstatic, there nervous. Bosetti adds an ambiguous kind of pulse, airy spurts and barely audible wheezes at the basis of a radiant indetermination. String drones appear at times, pulling the music towards a dirty staticity. About 17 minutes in, Ezaki is heard again via tranquil, if dissonant lamentations, yet the dominance of rattle and pluck remains established throughout. The final section is coloured by sounds ranging from ritualistic to nerve-stinging: prominent, predictable in a way, always welcome. These artists strain many ropes without snapping one.'
Massimo Ricci (Paris Transatlantic)
london | cs080
Ernesto Rodrigues viola
Angharad Davies violin
Guilherme Rodrigues cello
Masafumi Ezaki trumpet
Alessandro Bosetti soprano saxophone
Recorded 29 November 2005, London © 2007
Cover design Carlos Santos
Cranc
CRANC - [A. Davies, R.Davies, N.Veliotis] EDO records 1999
The Magic Numbers
Those the Brokes